Hinckley Times 2nd December 1999
Records tumble at club championships
Held over several days, the finals of Hinckley Swimming Clubs' championships saw the top performers send records tumbling as they proved their ability in a range of events.
Picking up one of the key awards of the event was James Starbuck who received the Elaine Smith Memorial Trophy from Mayor Councilor Denis Bown. The trophy is given to a swimmer who has shown his or her commitment and perseverance, often overcoming some kind of difficulty.
Award winner James Starbuck with the Mayor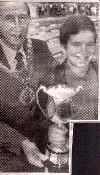 Click on this thumbnail to see the full photo.
Elsewhere, Club Captain Clive Clarke raise nearly £100 through being sponsored and Paul Sippitt won the senior diving contest.
Top performers included Simon Belcher who, in the boys' 13/14 years 100m category won butterfly, breastroke, backstroke, freestyle and individual medley.
Almost matching that was Michelle Wykes in the ladies' 17-and-over 100m events, winning backstroke, breastroke, freestyle and individual medley.
Alex Dawson in the same category for the men, took butterfly and individual medley.
A handicap race held over five rounds was won by Erica McPhilimey for the girls and Andrew Finlow-Bates for the boys.
Other record-breakers were Clare Brogden in the ladies' 35 and-over 100m individual medley. Aaron Clarke in the boys' 11 and 12 years 50m breastroke and Jennifer Wainscot in the girls' 13 and 14 years 100m individual medley.
They were joined by Carly Pidcock in the 17-and-over 100m butterfly, Tracey Addison in the ladies'35-and-over 50m breastroke and Helen Clarke in the girls' 15 and 16 years 100m freestyle.
Novice races were taken by: girls' learner pool - Michaela Sippitt, boys - Leon Edwards; girls' flume pool - Claire McAteer, boys' - Owen Williams.
On one of the days, the guests of honour were Sylvia Martin and Verona Ward at their last official appearance at the town club. Both have been members for many years - 30 and 23 years respectively - and since the club moved to the leisure centre, have collected the entry fee twice a week. They have been committee members and honorary life members and were presented with gifts.
Hinckley Times Thursday 9th December 1999
Germans Sneak Swim Gala Victory
Hinckley swimmers were beaten by one point in a gala held to mark the tenth exchange visit with a team from Herford.
The twin towns have been competing in the pool since 1989 when members of the Hinckley club took up a challenge from their German counterparts.
This year a 39-strong party spent four days in Herford, where the Deputy Mayor presented them with gifts and a wax copy of the town's seal.
The group also visited the European Space Agency, where they saw parts of the new space station and the Ariane 4 rocket being built.
Club member Mrs. Jan Kirby said: "The people in Herford made us very welcome and kept us very busy. The facilities there were excellent. They had an eight-lane pool and our kids did brilliantly considering how tired they were after all the traveling."
Below is a photo of all of us who went to Germany, it was great - Chris Holden
Click on this thumbnail to see the full photo.
Can you help with any aspect of Hinckley Swimming Club?
| | |
| --- | --- |
| | Do you enjoy sports? |
| | Do you want to support your children to achieve their swimming potential? |
| | Are you a good organiser? |
| | Are you good at raising sponsorship? |
| | Do you want to learn how to teach swimming? |
We need your help!
Contact any officials of the club or e-mail us.